One of the two oldest crown bowling greens in England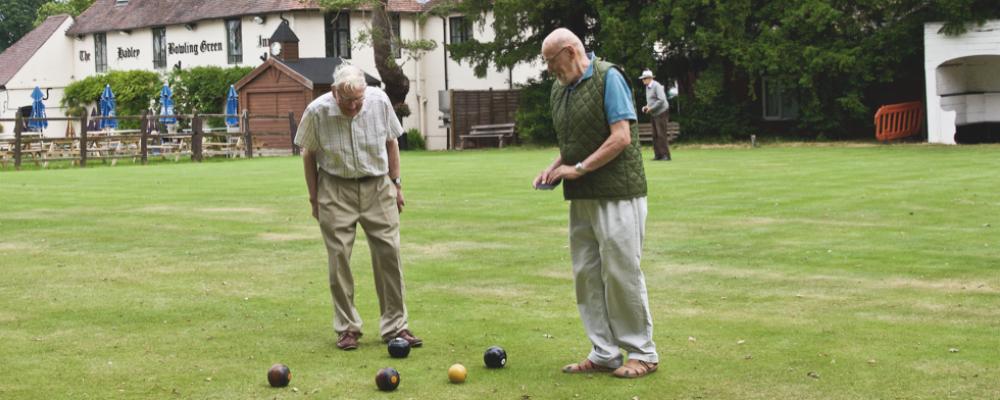 The Hadley Bowling Green is a Crown Green and is reputed to be the oldest in the country, and is also the most southern. Records for it date back 400 years. It is adjacent to the lovely half-timbered 16th century inn of the same name and is surrounded by beautiful Worcestershire countryside.
Two clubs bowl at 'The Hadley':
The 'Thursday club', which meets every Thursday afternoon is the oldest club. It has its own clubhouse, and players enjoy a meal together after bowling. Membership is by invitation.
The 'Hadley Monday Bowling club' previously called 'The Beefeaters Bowling club' meets every Monday and Friday evening at 5.30pm from April to October.
New members are welcome. There is a traditional 10pence stake on a match. The whole ethos of the club is one of friendly rivalry, all settled over a pint or two in the inn afterwards with lively banter.
Contact:
Club secretary, David Brownridge, Tel. 01299 250409
Club president, Mike Lovatt, Tel. 01905 451597
A few words on Crown Green Bowling:
The green is slightly 'crowned' in the centre so not only does a player have to take into account the bias of their (bowling) woods but also the camber of the green.
The jack is biased, like the woods, whereas in Flat Green Bowling it is not.
The jack and woods can be, in theory, be bowled literally anywhere across the green, whereas in Flat Green bowls they bowl up and down, almost in lanes.
Each player has two woods whereas in Flat Green bowls each player has four.
The winning pair in a match are the first to reach 21 woods nearest the jack over any number of ends.